Public Safety Training Center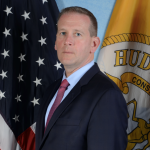 Mark Miller
Public Safety Training Center, Director
The Hudson County Public Safety Training Center is a premier law enforcement training academy located in New Jersey. It is one of 15 law enforcement training academies certified by the New Jersey Police Training Commission. Each year, the academy trains more than 300 recruits in various law enforcement disciplines such as Basic Police Officer, Special Police Officer, County Correction Officer and Humane Law Enforcement Officer. In addition to basic recruit training, the Academy is also host to in-service and specialized law enforcement training programs for newly certified and veteran officers.
The Public Safety Training Center offers approximately 2000 hours of basic and advanced in-service courses and training to approximately 1000 police officers throughout the year. The academy staff and instructors are experienced and well versed in their field of instruction.
All instructors who teach at the academy are certified by the Police Training Commission and bring a wealth of knowledge and experience into the classroom. Presently there are approximately sixty instructors assigned to teach at the academy. The faculty includes law enforcement officers, assistant prosecutors, retired judges and civilians who are experts in their fields. The County Police Academy is also one of the few academies in the state that will offer the Alternate Route Basic Training Program. This program will make PTC certified police officers available to non-civil service law enforcement agencies throughout New Jersey.