Emergency Vehicles
The Hudson County Office of Emergency Management has an array of emergency response equipment which is available to be deployed throughout the county to assist first responders in dealing with a wide range of emergencies. A cross section of the type of equipment that is available to respond can be found below.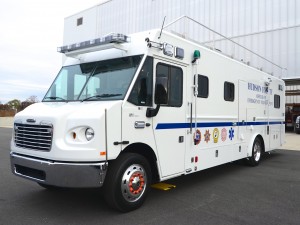 EMERGENCY RESPONSE VEHICLES
Hudson County OEM has the capability of deploying its mobile command center to municipalities that request it. It is equipped with a wide array of communications equipment as well as satellite television and internet. It can be used to facilitate communications between various responding agencies in the event of a widespread emergency or significant public threat.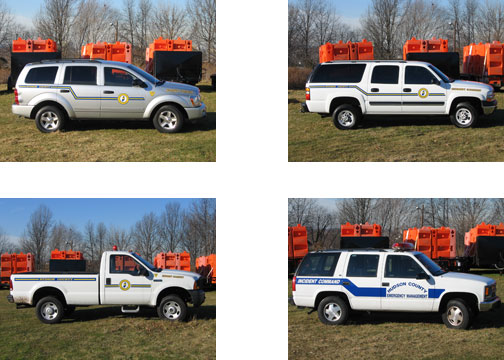 RESPONSE VEHICLES
OEM vehicles have communications equipment that enables us to monitor and communicate with emergency response agencies within Hudson County and throughout the State of New Jersey.
DECON UNIT AND UTILITY UNIT
The ability to expeditiously decontaminate ambulatory and non-ambulatory patients within a semi-private heated area is paramount to the effective out come of an intentional or unintentional chemical release.
The Decontamination and Support Unit contains equipment needed for technical and mass decontamination.
COUNTY ANIMAL RESPONSE TEAM (CART)
Many residents may be willing to evacuate only if they can take their pets with them and know their pets are being cared for.
The CART trailer contains mobile equipment that can be deployed near shelters and used by humane and volunteer groups to care for animals affected by a disaster.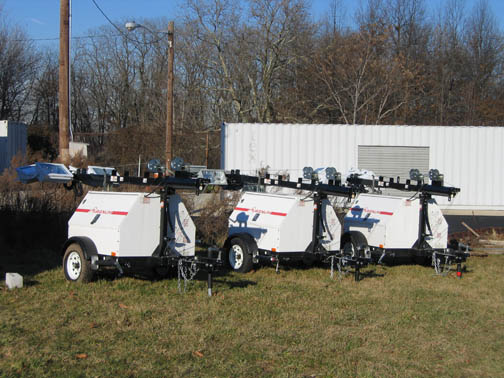 LIGHT TOWERS
Light towers have the ability to provide scene lighting as well as generate 115/240 volts of electrical power as needed. There are several of these units pre-deployed throughout the County.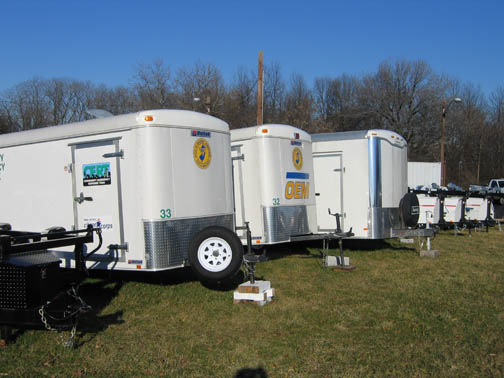 Community Emergency Response Team (CERT)
HYDRO-BARRIERS
These Hydro-Barriers can be rapidly deployed anywhere in the County in the event of a emergency.
WATER TANKERS
These water tankers can supply potable water in event of a water main break as well as assist the fire service with water for firefighting operations.
Each tanker can store 3,200 gallons of water and pump up to 750 gals/min.
New and Improved Mobile Command Vehicle