Community Emergency Response Team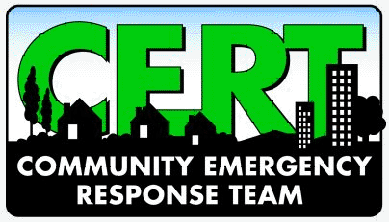 Being part of an organized and trained CERT Team will better prepare you to protect yourself, your family, and your neighbors during a disaster.
The Community Emergency Response Team (CERT) program helps train Hudson County residents to be better prepared to respond to emergency situations and planned events in Hudson County. When emergencies happen, CERT members can give critical support to first responders, provide immediate assistance to victims, and organize spontaneous volunteers at a disaster site. CERT members can also help with non-emergency projects that help improve the safety of the community.
The Hudson County CERT training program consists of 20 hours of instruction over an eight-week period. Classes are taught by emergency responders, including firefighters, emergency medical technicians, and law enforcement personnel from throughout Hudson County.
The Course includes: Disaster Preparedness, Disaster Fire Suppression, Disaster Medical Operations Part 1, Disaster Medical Operations Part 2, Light Search & Rescue Operations, Disaster Psychology & Team Organization, Terrorism, and a Final Exercise. The following Municipalities in Hudson County currently have active CERT programs. For information on how to join CERT in you town, contact your local OEM coordinator.
Municipalities in Hudson County that have active CERT programs
| | | |
| --- | --- | --- |
| Town  | Coordinator | Phone |
| Guttenberg | Sgt. James Hosie | 201-868-3300 |
| Hoboken | Joel Mestre | 201-420-5618 |
| Jersey City | Dir. Greg Kierce | 201-547-5566 |
| Union City | Sgt. Jose Martinez | 201-348-5779 |
| Weehawken | Gio ahmad | 201-319-6010 |
CERT is not the only way to get involved.
A group called New Jersey Voluntary Organizations Active in a Disaster (NJ VOAD) partners with volunteer organizations throughout the state to provide coordinated relief after a disaster. NJ VOAD organizations range from volunteer EMS governing bodies to faith-based volunteer groups. You can check out all of the participating NJ VOAD groups at: https://www.njvoad.org/.