About the County Administrator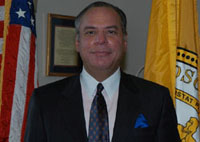 Abraham Antun
County Administrator
The Office of the County Administrator administers the day-to-day operations of County government.
The County Administrator, as the chief administrative officer of the County, is appointed by the County Executive with the advice and consent of the Board of County Commissioners, and is responsible for the orderly and efficient administration of County operations, under the direction of the County Executive.  Responsibilities include directing and supervising eight operating departments, monitoring the institutional responsibilities of the County (correctional center, psychiatric hospital), and supervising the formulation of annual operating and capital budgets.
Additional responsibilities include coordinating the operations and relations of the statutory offices of the County Clerk, County Register, County Surrogate, and County Sheriff as well as the County Prosecutor's Office.  The County Administrator also serves as the primary administrative liaison between County government and the elected Board of County Commissioners.
 Click here for Hudson County Courts contact
County Administrator's Office

Administration Building Annex
567 Pavonia Avenue
Jersey City,  NJ  07306
Phone:  (201) 795-6100  |  Fax: (201) 795-6520

David Drumeler | Deputy Administrator

Oscar Aviles | Assistant Administrator
For Verification of Employment:
All  Verification of Employment requests must be submitted to the  Division of Personnel by mail, email or fax.  All requests are to be addressed to the following:
Hudson County Division of Personnel
567 Pavonia Avenue
Jersey City, NJ 07305
Att: Ms. Tania King
Phone: 201-795-6255, ext. 6237
Fax:201-369-3424
*All email requests should be sent to: tking@hcnj.us  with a copy to smincey@hcnj.us