Department of Finance and Administration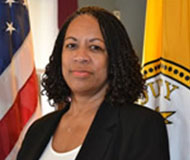 Cheryl Fuller
Director, Department of Finance and Administration
The Department of Finance and Administration assists the County Executive in the orderly and efficient administration of the fiscal affairs of the County, assist the departments and other budgeted agencies in the evaluation and selection of federal, regional, and state aid programs of interest to the County and expedite the requisite applications, develop and maintain management information systems & technology which keep the County Executive informed of trends and progress in the County government.
Division of Accounts and Control
The Division of Accounts and Control enforces the uniform system of accounts for all departments and other budgeted agencies under the County government, and facilitates the production of records of the cost of performance of each functional program or activity.
Division of Purchasing
The Divison establishes, maintains, and operates, in accordance with regulations prescribed by the County Executive, a centralized purchasing system for the procurement, storage, and distribution of supplies, materials, contract services, equipment, real estate, and insurance required by any and all County departments and budgeted agencies.
Division of Tax Assessments - Board of Taxation
The Division of Tax Assessments exercises and discharges all of the functions, powers, and duties of a County Board of Taxation under state statutes, except the functions of hearing appeals from municipal assessments and relating to the County equalization tables.
Division of Personnel
Division of Personnel develops and administers the County's personnel programs, including up-to-date job classifications and pay plans, active recruitment of needed personnel, and in-service training programs.
Division of Information Technologies
The Division operates and maintains central facilities for electronic data processing and equipment maintenance for all departments and budgeted agencies and oversees the County's telecommunications needs.
Office of Grants Management
Office of Grant Management is responsible for all programmatic and fiscal compliance duties as may be required under the terms and conditions of all grants which the County of Hudson applies for and accepts.
Budget Office
The Budget Office develops and prepares budget estimates and a comprehensive operating and capital budget for the County, and prepares periodic reports on budget operations for management review.
County Budgets, Financial/Debt Statements, and Audits
2022
2021
2020
 2019
2018
2017
2016
2015
2014
2013
2012
2011