About the Office of Emergency Management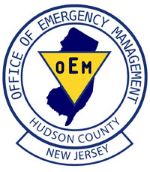 Thank you for visiting the official webpage of the Hudson County Office of Emergency Management. This webpage is intended to provide you with information and insight into the many facets of work being done on your behalf by HCOEM.
Coordinator: Jim Woods | 201-369-5200
Address: 830 Begen Ave. Jersey City, NJ 07306
Hudson County is located on the western bank of the Hudson River. It has coastline along Upper New York Bay, the Kill van Kull, Newark Bay, and both the Hackensack and Passaic Rivers. It is the most densely populated county in the state of New Jersey and its citizens represent diverse cultural and ethnic backgrounds. The county hosts one of the country's largest world financial centers in addition to being a major transportation hub that includes commuter and freight rail lines as well as the Lincoln and Holland tunnels. This heavily populated, metropolitan environment makes Hudson County communities particularly susceptible to various technological, manmade and natural disasters.
The mission of the Hudson County Office of Emergency Management is to maintain the highest possible level of preparedness to protect the lives and property of the Hudson County citizenry before, during and after a natural or man made disaster. The Hudson County Office of Emergency Management works with all emergency responders, public and private agencies, business communities, the Urban Area Security Initiative (UASI), the Regional Catastrophic Planning Group (RCPG) and volunteer organizations to meet this mission.
OEM staff works vigilantly with emergency responders to plan and prepare and protect the citizens of Hudson County as well as its infrastructure. However, it is just as important that you, as a member of this community, take an active role in disaster preparedness.
We invite you to learn more about what is being done to prepare your communities and what you can do to prepare yourself and your community for a disaster by reading the rest of the information that is available to you on this website. Please take the time to check back often as disaster preparedness is a dynamic endeavor and new information will be posted regularly.
MITIGATION:
Actions taken to eliminate or reduce the degree of long-term risk to human life and property from natural and technological hazards.
PREPAREDNESS: 
Actions taken in advance of an emergency to develop operational capabilities and facilitate an effective response in the event an emergency occurs.
RESPONSE: 
Actions taken immediately before, during, or directly after an emergency occurs, to save lives, minimize damage to property and enhance the effectiveness of recovery.
RECOVERY:
Activity to return vital life support systems to minimal operating standards and long-term activity designed to return life to normal or improved levels.
The FCC approved the County's temporary request to broadcast on the AM station at 100 watts for the duration of the pandemic declared emergency. You can listen to the Hudson County Emergency Radio Station that will continue to broadcast COVID-19 related updates on 1710-AM or by streaming it here.
Hudson County Office of Emergency Management Alerts
Sign up for alerts from the Hudson County Office of Emergency Management & other public safety agencies in your area.